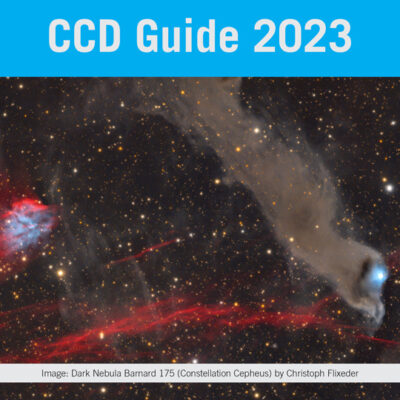 363 new images
3 new astrophotographers: Kai-Oliver Detken, Christoph Flixeder and Reintraud Weissenegger
CCD-Guide software 4.1: You can find a list of the new software features below.
New folder structure: The new folder structure is simple and makes it easier to switch to a new release. The most important changes are:

All user data are now located in the userdata folder: besides the CCD-Guide Expert data (user.mdb with planner_images and user_images), the ObjectTracker data (Locations.csv with horizon files) are now also located here. Furthermore, all cat catalogs created by the user can also be found in the userdata folder. The big advantage for the user is that he only has to copy the userdata folder when switching to a new release.
All exe files are now located in the root directory.
There is a new output folder: All temporary results are written to the output folder. For example, you can find here images solved and labeled by ObjectMarker, the results of BatchSolver or the images compressed with JPEGCompress. The content of the output folder can be deleted at any time, because it contains only temporary results.

CCD Guide:

Central color scheme switching: With one mouse click the color scheme for all applications can be switched between light and dark.

CCD-Guide Browser:

Two new connected planetariums:

ObjectSky (see below for details)
Stellarium

ObjectSky: The newly developed planetarium ObjectSky is an integral part of CCD-Guide and replaces the old Virtual Planetarium of the ObjectTracker. ObjectSky can be started in different ways: either in the ObjectTracker by pressing the Planetarium button or by a click in the Browser or in the Expert. A direct start of ObjectSky.exe in the root directory is also possible. ObjectSky works interactively with ObjectTracker and offers a number of interesting features, such as:

Display of all CCD-Guide objects in the planetarium
Access to all CCD-Guide images including image data in the planetarium
Access to all current comets

CCD-Guide Expert:

QuickFilter extension: QuickFilter in Planner, Edit Object and Edit Picture with the operators | and &
ObjectViewer as ImageViewer: In the Expert, a double click on an image now opens the ObjectViewer by default instead of IrfanView
Error protection during data entry: A red text "Data not saved" appears as soon as a data set is edited. This reminds the user not to forget to press the Save button to complete the saving of the dataset.
Marking of Planner datasets with Ref-Image.

ObjectTracker:

New, improved Locations Editor
Planets and comets available in ObjectTracker
Report in Browse window: with one mouse click a report in csv or txt format can be created, in which the observation data of all selected objects are tabulated.

ObjectMarker:

Profiles in ObjectMarker: Profiles can be saved and loaded. For example, you can save all settings for wide field images and create another profile with all settings for long focal length.
Improved color selection in ObjectMarker

ObjectViewer:

Multiple images: can be opened in parallel in ObjectViewer.
Distance measurement: Using the right mouse button, distances between two positions can be measured comfortably with the "Measure distance" option.